It's nice having a million icons and the ability to edit my comments, but that $20 could have gone somewhere else right now. :\

On another not so resigned note, keep your fingers crossed for me! I took an exam last week for a library position. My bank account could really use the part time work. My bank account could really use full time work, but I will take 20 hrs/wk if I can get it. :D
My paid account time didn't lapse like I thought it would. Instead, like a moron, I completely forgot my automatic payments were turned on.
Current Mood:

anxious
I'm on The Official Star Wars website! Look on
Page 7
for a year of Star Wars from the perspective of fan sites (like TheForce.net) and large contributors, like Ashley Eckstein and Steve Sansweet..
duncatra
asked a few of us to contribute for a compliment post on Club Jade (she was asked by Pablo Hidalgo); the article showcases a few of the blurbs we wrote for F/NF books and both of mine appear.
Fate of the Jedi: Backlash
and
Clone Wars Gambit: Stealth
! :)
So there it is. Erika's been published on the official Star Wars website. Great way to end 2010, yes?
I thought I'd mention it here:
Current Mood:

nerdy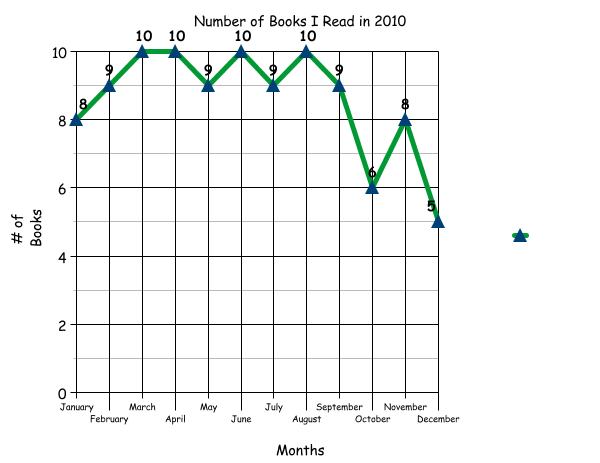 You can make your own
here
.
I've done this for two years and decided to try it one more time. I wrote down the books I read each month and wow! No wonder I got overwhelmed recently (you can see last year's
here
).
Compared to then (79 books), I read 101 (reviewed only 99) books this year. I didn't plan to do that and think maybe I should slow down. Well, not like should, more like my brain is telling me to slow down anyway. :p
Current Mood:

sick
Club Jade
article was published. For one, Ashley Eckstein responded by addressing everyone's concerns (which goes to show what an amazing advocate we have in her—if there was ever any doubt how invested she is in this line, she's proven otherwise).
For two, due to some complaints about shipping costs (honestly silly of me: I didn't realize the international rate was
so
high!), Her Universe offered free US shipping for all of last week and $8 off international shipping.
And the final cool thing: in an effort to be even more supportive than he already is for the line (and because he's really a big sweetie), Pete bought me the Her Universe manga hoodie (the Star Wars manga and me, we go way back), Plo Kool shirt, Star Wars burnout tee,
and
the Han/Leia "I know" shirt (which, sadly is more like a M/L than a S and has to be returned. :( ).
I am all set to be decked out in my nerdy finery. :)
There have been some awesomely awesome things that happened since my


She understood the humor between two sentences (we worked on simple past & past continuous tenses briefly today):

"I cut myself as I was peeling potatoes."

"I was cutting myself as I peeled potatoes."

Or maybe we both just have the same sense of humor. :p
I am so proud of my student.